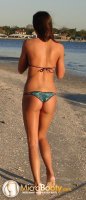 This photo was sent by a young lady who would like to remain anonymous at this time.
What a perfect booty.  The pattern on the micro bikini is very nice. The peacock pattern is hot.  I almost feel like its watching me watching her perfect booty!!
Thank you to M for the photo. I have fallen in love with those LOOOOONG sexy legs. I hope she gets brave enough and sends in some more photos.