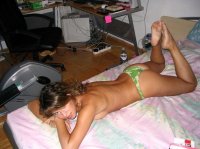 This coed gets high scores for showing over her lovely booty in a tight Brazilian cut bottom.
She must be spending a lot of effort working on her tight ass, that she has no time to clean up!!
Here at MicroBooty we love the girl's next door who love to show off.  This is the benefit of living in a "girls gone wild" world!!  Thank you Joe Francis, I will send you some soap on a rope soon!!